In 2020, Cook Brothers were proud to be named as one of five institutions to be offered funding under the Provincial Growth Scheme, aiming to create 300 apprenticeships nationwide. As a result, the Cook Brothers Academy was established, with Coach Matt Thompson at the helm.
It is our aim to have the best Apprenticeship Academy in New Zealand. So, let's look to the future of the industry.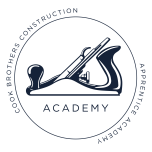 Welcome to the Academy
Cook Brothers Construction has the vision of transforming the construction industry. We are looking for team members who want to take on the world and cement us as national leaders. Do you have the following qualities? You could become a part of our team.
Strong health and safety focus
Excellent time keeping skills with a drive to produce quality work
A team player
A positive attitude with goals to grow and succeed
A completed pre-trade in carpentry at a Polytechnic
Each apprentice at Cook Brothers becomes part of our Cook Brothers Apprentice Academy and has access to our company coach or mentor. They will provide individual support to all apprentices in the organisation.
Being a part of our Academy means putting your best foot forward. Our Apprentices are guaranteed a quality commitment with safety training, great team culture, wellbeing support, licences and both on and off the job training.
If you are thinking about an Apprenticeship, give yourself the best possible chance to succeed.
Contact us here.
Meet our Academy Team
Apprentice Development Coach - Matt Thompson
Coach Matt Thompson is at the helm. Matt will coach apprentices through their learning at Polytechnic or BCITO training and help our apprentices overcome any obstacles.
"The Cook Brothers Academy is a fantastic opportunity to further support the development of individuals in our industry and our regional economies and communities in a sustainable and structured manner. Our Apprentices are provided with the building blocks for success; support, mentoring, training and community"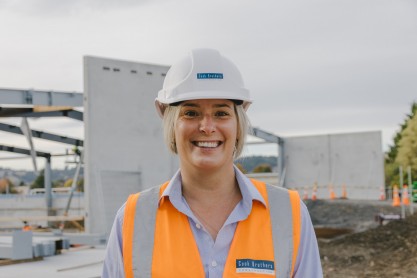 People and Performance - Nat Fraser
Nat joined our team with immense experience as a mental skills coach and athlete life advisor in High-Performance Sport. With her passion for people and their performance, Nat loves facilitating growth and learning. Her work with the Cook Brothers team will further their development, performance management and critical thinking skills so that they can express their best in a satisfying, meaningful and fulfilling manner across all aspects of their lives.
Find out more
Do you have the drive to become one of the best tradespeople in New Zealand?
Start by applying at your local Cook Brothers Construction office to complete your work experience or contact employment@cookbrothers.co.nz